healthy lifestyle
Sometimes it can feel like maintaining a healthy lifestyle is an insurmountable challenge that doesn't fit with the realities of everyday life. It's very difficult to work a full-time job, eat healthy, train for a marathon, make homemade green juice, spend time with your family or partner, and meditate for an hour a day.
Of course, a healthy lifestyle can include all of these things (if you want it to), but it doesn't have to be defined by spectacular displays of health and fitness.
A healthy lifestyle is largely made up of small daily actions – actions so small they don't seem important, but which, when repeated over time, produce big results.
Here are 10 tips for living a healthier, happier life, all of which are simple and easy to incorporate into your daily life:
1. drink a glass of water first thing in the morning.
A good coffee is fine too, but it's a good idea to start your day with a big glass of water to rehydrate yourself. Hydration in the morning aids digestion, improves skin health and gives you energy.
2. use the stairs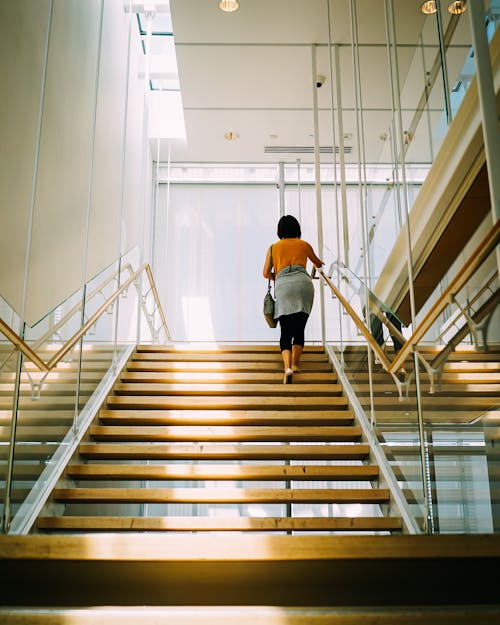 Taking the stairs instead of the elevator is an easy way to incorporate a little more activity into your daily routine. It also strengthens and tones your legs and core while you're at it!
3. Eat vegetables on half of your plate.
A simple trick for healthy eating (and portion control) is to add vegetables to half of your plate at every meal. Vegetables contain vitamins, minerals and other phytochemicals that are important for health and longevity. And because they're high in fiber, they help with digestion (and therefore regularity) and keep you feeling fuller longer.
4. Get a fitness tracker + track your steps.
Using a fitness tracker (such as a Fitbit or Apple Watch) to track your steps is an easy way to ensure you're getting enough physical activity each day. Our goal is to walk 10,000 steps per day, which offers significant physical and mental health benefits. A fitness tracker will also remind you to take 250 steps every hour.
5. Switch to non-toxic household cleaners.
Conventional household cleaners are full of harmful chemical ingredients that are not good for our health (or that of our children or pets!). Switching to healthier alternatives is an easy way to reduce your household's exposure to environmental toxins.
6. Use non-toxic skin care and toiletries.
Like cleansers, conventional skin and body care products contain toxic ingredients that we shouldn't allow to enter our body's largest organ on a regular basis. Limit your body's toxic exposure by choosing non-toxic beauty and personal care products.
7. Take a probiotic daily for a healthy lifestyle.
Respecting the health of your gut has significant implications for digestion, skin health, immunity, mental health and more. Taking a daily probiotic with a glass of water every morning is one of the easiest things you can do to improve your gut health (which in turn improves overall health in many ways).
8.Eat real foods.
Make an effort to eat real foods made from whole ingredients that you have in your kitchen pantry or that your grandmother would recognize. This is somewhat different from suggesting that you eat only "healthy foods" (many of which are increasingly processed!). "Real foods" are unprocessed foods like an apple, cucumber, soybeans, or steak, as well as foods that are loosely processed from one (or a few) real food ingredients, like butter, olive oil, yogurt, tofu, etc. In other words, strive for foods that can be reasonably made in your own kitchen and avoid those that can only be made in a lab.
9. Get up every 30 minutes while working.
Reduce the harmful effects of sitting (as in your office job) by getting up every half hour and moving around for a minute or two.
10. Get sunlight every day.

Vitamin D is one of the most important nutrients for overall health, and sunlight is one of the best sources. Try to get at least 30 minutes of sunlight a day, preferably in the afternoon and without sunscreen. Don't get much sun in the winter? It may be worth taking a vitamin D supplement and/or other food sources for this essential nutrient.
Remember that physical and mental health is essential to living a good and peaceful life. So if you are determined and want to improve your quality of life, do not hesitate. Follow all the good tips that we are going to talk about today in this article to live a healthier life.
Remember that only you can make the right choices for your life. So make the right choice and get to work with these tips. This will help you improve your well-being so that you can live a healthier life.
---
Top 15 best foods for health and wellness